VIP Mercedes Sprinter
VVIP Minibus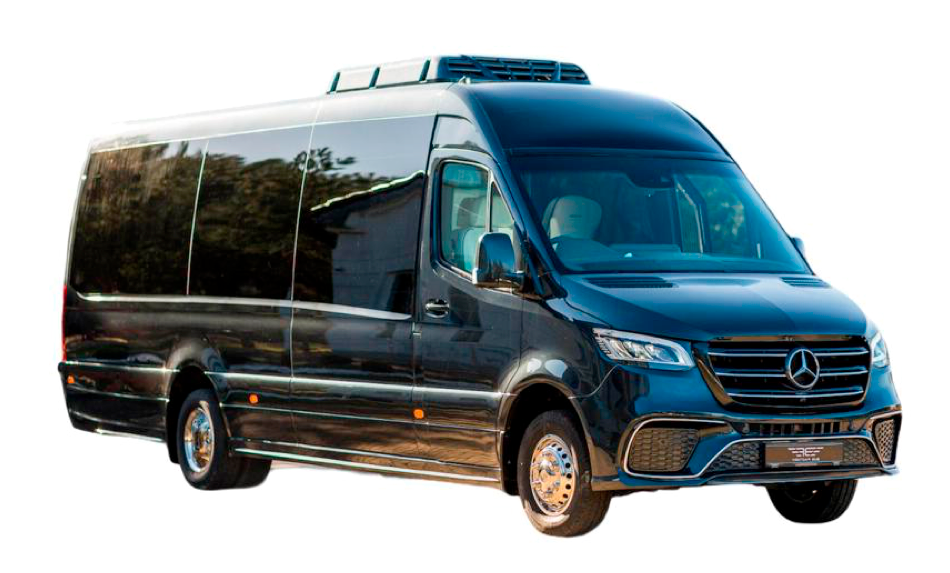 VVIP Mercedes Sprinter (VVIP Minibus)
Groups of people who regularly fly private are accustomed to a high level of luxury; however, finding a ground transportation with the same amount of opulence is often difficult to find. At GMC Limousines, we have the VVIP Mercedes Sprinter minibus which is the go-to vehicle for clients for whom only the best is good enough.
Celebrities, senior diplomats traveling with their families and people celebrating an important occasion should look no further if they want a luxurious & practical chauffeured transportation solution. Able to transport up to 16 passengers, this minibus is also used by groups of 2-3 people who want to benefit from all it has to offer as well as the increased space it provides.
This top-of-the-line vehicle offers a wide variety of features that include multiple TV screens, a PlayStation for children, high-speed Wifi, mini-fridge, coffee machine, captain chairs, a table, a high-end audio system, and more.
We provide the following amenities to maximise your comfort:
Free Wi-Fi in vehicle to stay connected
Chilled Evian water bottles and Oshibori refreshing lingettes to freshen you up
iPhone chargers near passenger seats
Flight monitoring with no surcharge if flight is delayed - if applicable
Fully fluent English & French-speaking drivers (other languages available upon request)

Limousines
---
Minivans & Coaches
---
Special Vehicles
---