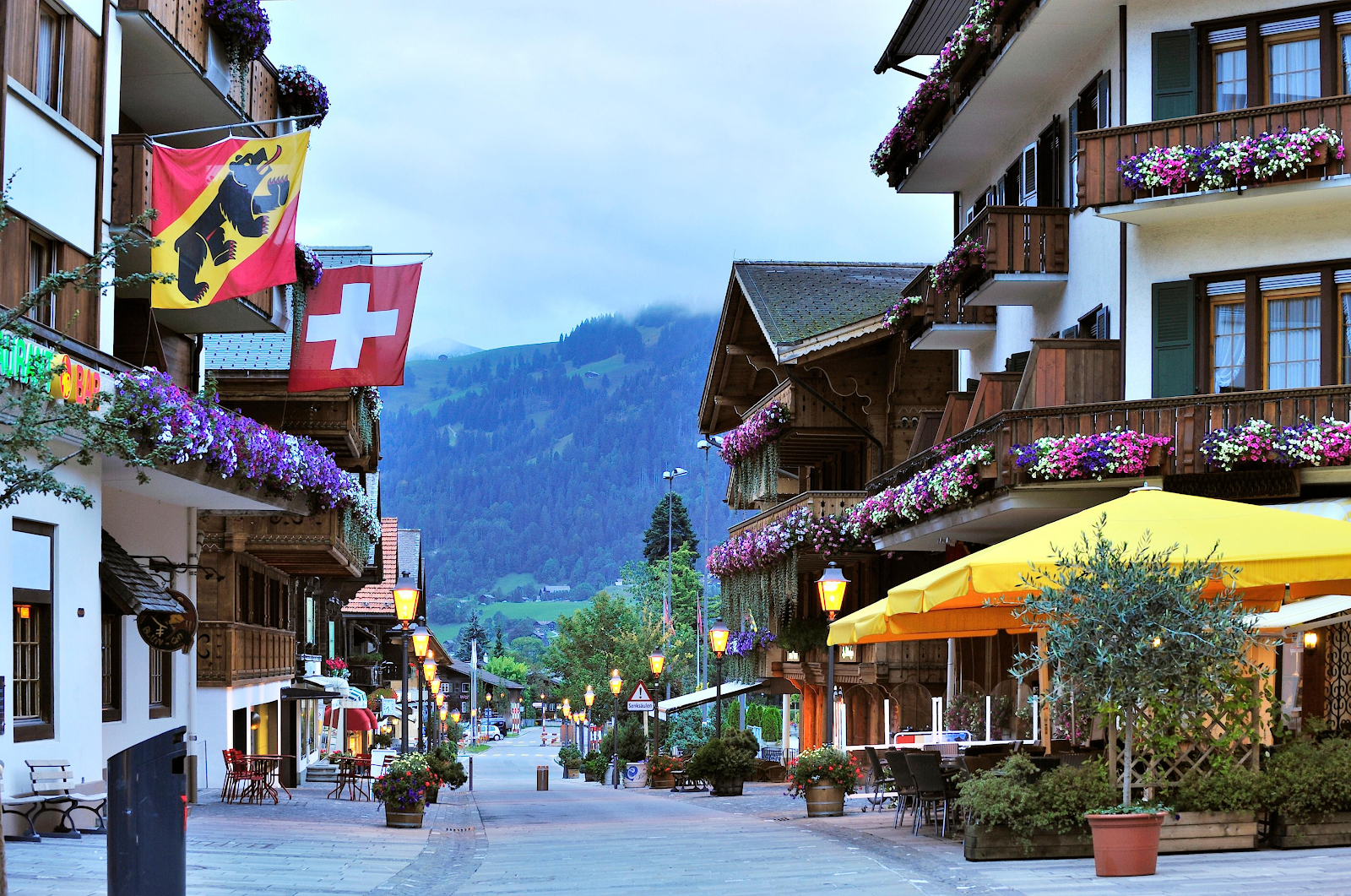 Gstaad is a village in the Bernese Oberland. It is situated at 1050 m above sea level and belongs to the municipality of Saanen in Switzerland.
The village centre has been a car-free zone since 1998. On the promenade, which was created by the bypass, there are numerous exclusive shops, restaurants and hotels. As of today, the heart of Gstaad has formed into the most well known "shopping mile" in Switzerland.
All houses are built in chalet style, which gives the village a special charm. Numerous celebrities spend their holidays here.
Saanenland offers an adaptable and various games program: climbing, mountain biking, paragliding and golf.
Mountain Excursions in Gstaad
Gstaad is encircled by a few mountains that are effectively available by gondolas or other mountain rides. At an elevation of approx. 2,000 meters you get incredible perspectives on the Simmental and the Saanen Valleys, including the towns and you can see a few higher pinnacles of the Bernese and Vaudoise Alps. These mountains offer wonderful runs for winter sports.
Glacier 3000
The closest 3,000 meters-top to Gstaad has become a world well-known spot for travelers, both in summer and in winter. You will be astonished by the stunning, 360-degree scene of the Vaudois, the Bernese and the Valaisan Alps and mesmerizing views of twenty-four 4,000 meters-tops including the Mont Blanc and the Matterhorn.
Hot Air Balloons
Rides are accessible from Chateau-d'Oex, not more than 20 minutes from Gstaad to any place the breeze takes you. The view from the hot air balloon is simply amazing.
How to reach Gstaad
Gstaad is 146 km away from Geneva airport and it takes 2 hours to reach Gstaad by car. We offer luxury transportation solutions between Geneva - Gstaad and other parts of Switzerland. We have luxury sedans, minivans and sprinters in our collection. Our chauffeurs are well trained and have a good knowledge of routes which assures quick transportation. You can book using our online booking system and you'll receive confirmation of your booking immediately. Rest assured while we will take care of your transfer.
Luxurious hotels in Gstaad