Mercedes S-Class 2021 (W223) - Our Latest Acquisition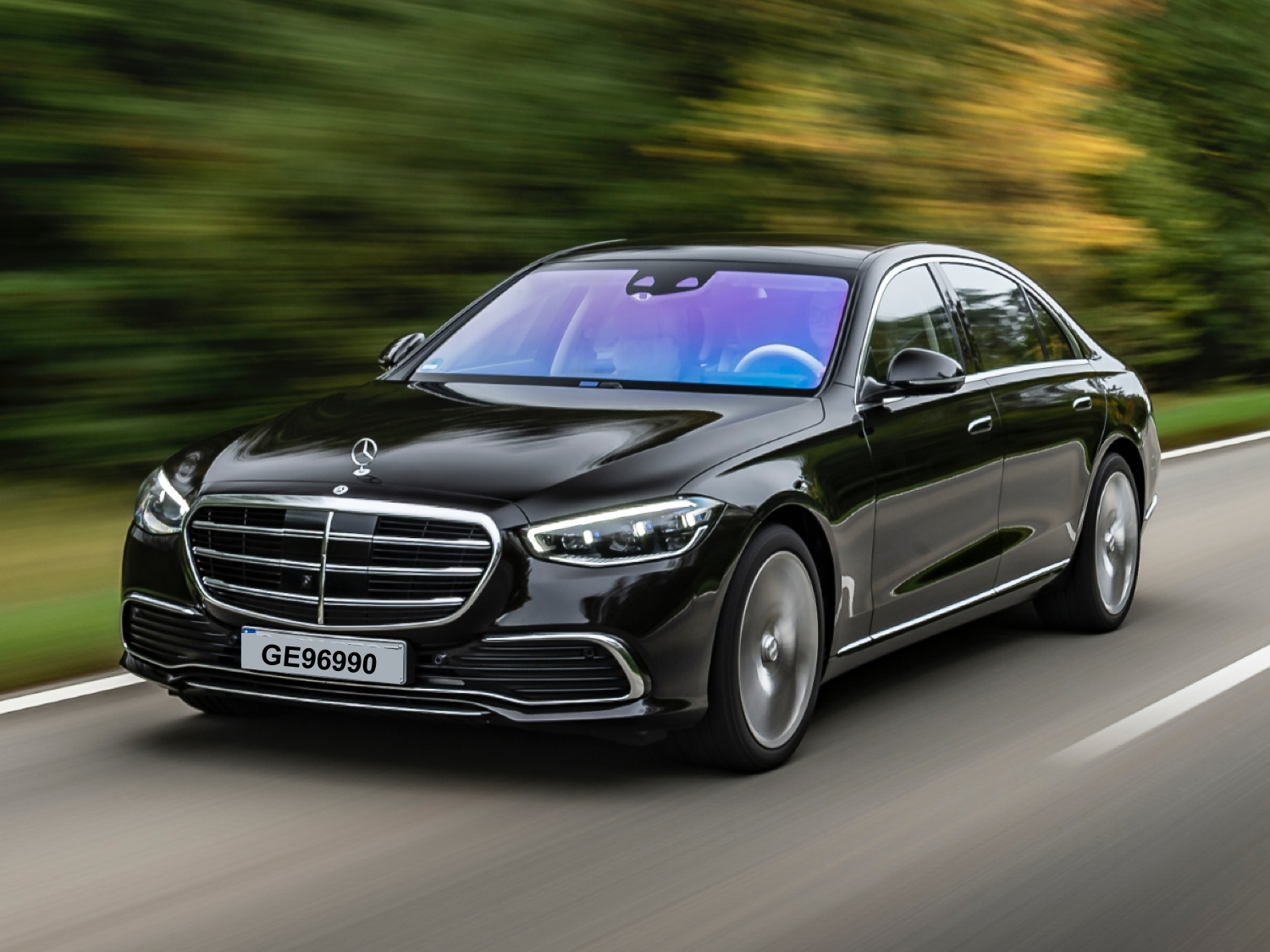 Why now?
Roughly a year has gone by since the first international travel restrictions were implemented due to the ongoing pandemic. During this period, demand for chauffeured limousine services in Geneva has understandably plummeted as international clients (representing a significant proportion of all received limousine requests) were prevented from entering the country. Despite this, we are now seeing a general increase in confidence possibly linked to vaccinations being laid out and the better application & understanding of sanitary measures.
To be ready once things pick up once more, GMC Limousines has purchased the latest addition to its fleet : the 2021 edition of Mercedes emblematic S-Class. Read more below about the luxury amenities this exceptional vehicle has, the standards we apply and how you can book it with your own private driver in Geneva.
An Icon for Chauffeured Services
The Mercedes S-Class has long been the limousine of choice for clients using luxury transportation services - a preferred choice over rivals brands such as BMW, Audi and other automobile manufacturers that produce high-end four-door saloon vehicles. Though it can be argued that the gap has narrowed over the years, Mercedes' latest S-Class must be considered as one of the most luxurious limousines to have ever been created.
Exquisite Interior
The new 2021 S-Class Mercedes has a fantastic array of luxury amenities and new interior functions, including:
A new MBUX system
A giant 12.8-inch OLED screen with an exceptional navigation display using augmented reality technology
New ambient lighting system that warns you of any danger
Original rear airbags for additional safety
Executive seating with integrated neck and shoulder heating
Distinctive Sleek Exterior
The 2021 S-Class has many new exterior features that set it apart. Some of the more visible innovations are:
New Digital Light headlamps & face
Flush door handles that crop up automatically when you approach
New elegant wheels
Newly designed tail with two-part rear lighting

Our Premium-Grade Standards
For the last two decades, GMC Limousines has led the way in providing quality chauffeured limousine services in the Geneva and Zurich area in Switzerland. Read more below on our company and the standards we apply.
Reliable Drivers at your disposal
Our professionally-attired chauffeurs are all locally-sourced and speak fluent English (as well as the local language based on their location). Polite, courteous and knowledgeable, they aren't just simple drivers but act as personal assistants who can advise you on any aspect to make your trip more enjoyable. Suggesting the best restaurants, itineraries, scenic spots and more are just a few of the things they can help you with. GMC Limousines benefits from a 40-strong pool of drivers who operate to the high degree our customers have been accustomed to and expect of us.
Immaculate Fleet
We regularly update the vehicles in our fleet to match our client's expectations. These range from our luxury sedans to larger vehicles (see our previous acquisition, the newest VIP Mercedes Sprinter) so we can always transport clients in vehicles with the latest technology in comfort and style.
Thoroughly cleaned daily and to the highest degree, our vehicles are all long-wheel-base 4 matic models that include the full set of options : luxury beige leather seating, tinted windows, massage functions, the list goes on.
Dispatch Team Available 24/7
Our tight-knit dispatch team is available to help plan your chauffeured limousine service(s) as per your specific requirements. Fluent in French, English, Spanish & Italian, they will inform you of any missing or unclear information. You will also be notified of any local events, adverse weather conditions (or any other circumstances that might potentially affect the timing of your service) and advised accordingly.
Feel free to call us and we will assist you as best we can
Online Booking and Rates Simulator
To book your private black limo service, you can call us at (+41 22 732 57 67) or send us an email at booking@gmc-limousines.ch.
Alternatively, you can also book your trip on our Online Booking System. Easy to use and intuitive, you can choose your preferred vehicle & input all necessary information relating to your trip. You can also see the exact cost of your journey on our simulator. Once this is done, confirm your trip and you will shortly receive a confirmation mail from our dispatch team. By booking directly online you benefit from a 15% discount on our public rates!*
*Discount isn't cumulable with existing client's rebates.
More services